GPCRs Assays
G protein-coupled receptors (GPCRs), also known as 7TM receptors, constitute the largest superfamily of cell surface receptors. These receptors play key roles in regulation of a wide variety of physiological processes, including cognition, metabolism, inflammation, immunity and cell proliferation, as well as development. Despite the large number of GPCRs that are available as potential drug targets, currently approved drugs only address a small portion of the known receptors; many GPCRs remain uncharacterized. Thus, this target class remains an area of strong interest in drug discovery.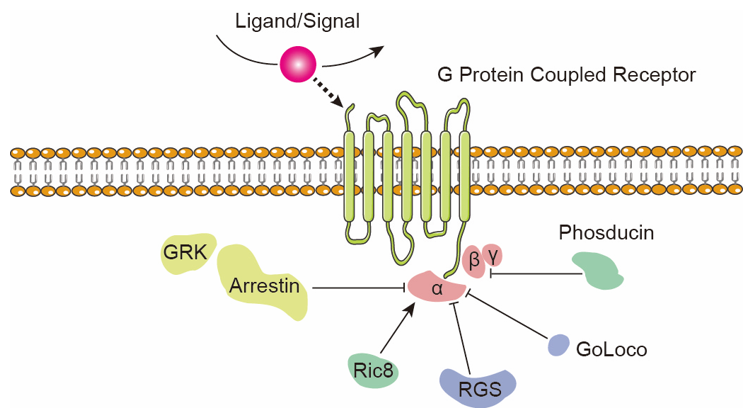 Figure 1 GPCR Signaling Pathway
MedAI provides GPCR radioligand binding assays for different targets. Gold standard filtration assays are conducted with an agonist or antagonist at a single concentration or a dose response for IC50 determination.
GPCR functional assays that cover multiple second messenger pathways are available. These include cAMP for Gi and Gs coupled receptors, IP1 and IP3/calcium flux for Gq coupled receptors, label free assays for endogenous signaling and traditional GTPγS assays. Agonist and antagonist assays are available in single or dose response for EC50 and IC50 determination.
GPCRs gene list that are targets for approved drugs
ACKR3
HCRTR2
CRHR1
P2RY11
AVPR1B
LHCGR
GCGR
S1PR3
ADGRG3
HRH1
CXCR4
P2RY12
AVPR2
MC1R
GHRHR
S1PR4
ADORA1
HRH2
CYSLTR1
P2RY13
BDKRB1
MC2R
GLP1R
S1PR5
ADORA2A
HRH3
CYSLTR2
P2RY2
BDKRB2
MC3R
GLP2R
SCTR
ADORA2B
HRH4
DRD1
P2RY6
CALCR
MC4R
GNRHR
SMO
ADORA3
HTR1A
DRD2
PTGDR
CASR
MC5R
GPBAR1
SSTR1
ADRA1A
HTR1B
DRD3
PTGDR2
CCKAR
MLNR
GPER1
SSTR2
ADRA1B
HTR1D
DRD4
PTGER1
CCKBR
MRGPRX1
GPR143
SSTR3
ADRA1D
HTR1E
DRD5
PTGER2
CCR4
MTNR1A
GPR18
SSTR4
ADRA2A
HTR1F
EDNRA
PTGER3
CCR5
MTNR1B
GPR35
SSTR5
ADRA2B
HTR2A
EDNRB
PTGER4
CHRM1
NPY4R
GPR55
SUCNR1
ADRA2C
HTR2B
F2R
PTGFR
CHRM2
NTSR2
GPR68
TAAR1
ADRB1
HTR2C
FFAR1
PTGIR
CHRM3
OPRD1
HCAR1
TACR1
ADRB2
HTR4
FPR1
PTH1R
CHRM4
OPRK1
HCAR2
TBXA2R
ADRB3
HTR5A
FSHR
PTH2R
CHRM5
OPRM1
HCAR3
TRHR
AGTR1
HTR6
GABBR1
S1PR1
CNR1
OXTR
HCRTR1
TSHR
AVPR1A
HTR7
GABBR2
S1PR2
CNR2
P2RY1
It is important to understand GPCR's on-and-off target activity, when assessing the potential efficacy and liabilities of GPCR therapeutics. Methods to measure GPCRs come in many forms- In addition to measures of direct ligand binding, many are indirect assays that measure events proximal to binding the represent different signaling pathways- these include reporter assays, cAMP quantitation, β-Arrestin recruitment, IP3 measurements and calcium flux to name a few. GPCR screening and profiling assays from MedAI provide the most comprehensive cell-based assay offering along with the fastest turnaround time in the industry for rapid efficacy, potency, and selectivity determination during SAR and Lead Optimization.